The Phoenix.com
May 5 2001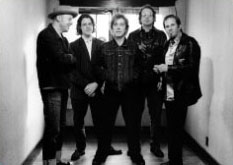 Music: Live and On Record
SWAG: Cheap Tricks
Like the Traveling Wilburys in the late '80s and Golden Smog a few years back, Swag - a band of semi-high-profile Nashville cats whose day jobs have included gigs with Wilco, the Mavericks, and Cheap Trick - are a pick-up group who actually look and sound like an honest-to-goodness band. The secret? Their convincing debut – Catch-all, released last month on the Chapel Hill indie Yep-roc – is a labor of love that finds a bunch of roots-rock musicians bashing out Anglophilic power pop that's been fitted with comfortable three-part harmonies. The disc caught an industry buzz, so Swag (sans Cheap Trick bassist Tom Petersson, who's currently touring Japan with his bill-paying band) have embarked on a short promotional tour that landed upstairs at the Middle East last Sunday night.
The 60-minute show was a goodie bag of mixed treats and trinkets. The road-tested line-up - Jerry Dale McFadden (keyboards, vocals) and Robert Reynolds (guitar, vocals) from the Mavericks; Not Lame Records solo artist Doug Powell (guitar); former Wilco drummer Ken Coomer; and veteran songwriter and Petersson pal Warren Pash (bass, vocals) - delivered good stuff like the gritty pub rock of "Please Don't Tell" (a song that brings to mind the Hamburg-era Beatles crossed with Rockpile), the frothy, Merseybeat frolic of "Louise", and half a dozen other bounce0along numbers.
Of course, no time-capsule trek back to the sounds of simpler, pop-rocking days would be complete without at least one free-spirited ode to the classic teen pastime of cruising around in a car; Swag's was the guitar romp "Ride". The band switched from grand allusions to direct tributes for their encore, tearing into perfectly ragged readings of ELO's "Don't Bring Me Down" (a track Swag recorded for an upcoming Jeff Lynne tribute album) and the Beatles' long-haired freakout "Hey Bulldog".
Jonathan Perry
The Phoenix.com
May 5 2001