SWAG was originally conceived by keyboardist Jerry Dale McFadden and guitarist Robert Reynolds while touring together with The Mavericks. Over thousands of miles and countless hours, they shared their mutual love of pop music and the concept of a utopian pop-rock band. SWAG was to be a project without musical confines where members would come and go as their schedules permitted. The first songs were born on that tour bus and in countless hotels throughout the US.

Once back home in Nashville, a recording session was booked and the two called some of their favorite players, who also happened to be their closest friends. It was during these sessions that drummer Ken Coomer (from Wilco) joined the group, and soon after solo artist/guitarist Doug Powell.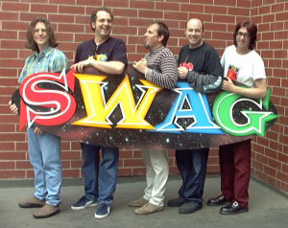 Doug Powell, Ken Coomer, Robert Reynolds, Jerry Dale McFadden, Warren Pash, 2001

Recording Catch-all

Getting all of the SWAG members together was challenging at times, but not for a lack of desire. Between 1996 and 2001, SWAG was able to create and release music, as well as perform a few live dates around Nashville, even if it was on a limited scale. Staying true to their utopian ideals, they still invited friends to join in whenever possible. Guests over the years have included Rick Neilson and Tom Petersson of Cheap Trick, Paul Deakin of the Mavericks, Bill Lloyd, and Brad Jones. Brad has produced all of the recordings, as well as the first full-length SWAG album, 'Catch-all' (2001). Doug, Jerry Dale, Ken and Robert share on all the vocals, as well as trading off instrumental duties. Special appearances on this album include: Bill Lloyd (guitar and vocals), Mavericks horn player Scotty Huff (vocals, trumpet, and guitar), and Kenny Vaughn (guitar). 'Catch-all' compiles four previously released tracks with eight new songs and is available on CD and limited edition vinyl LP.
'Catch-all' embodies both the fun-loving nature of SWAG and their amazing combined songwriting skills. Brit Pop meets punk in this mix of tunes so hummable they're honestly addictive. 'Catch-all' is a love poem to '60s pop and garage rock and elements of The Zombies, Kinks, Beach Boys and even Cheap Trick are found in these songs. Even with this derivation it's pulled together into a sound that's uniquely and irrefutably SWAG.
Response to SWAG has been both amazing and overwhelming. Since the release, the band has played tour dates that included SXSW, performances on syndicated radio shows World Café and Fresh Air, the Conan O'Brien show, and the distinct honor of being Mitch Albom's CD Pick of the Week on MSNBC. During this time the members of SWAG realized this was more than a side project for them. Because they love working together, they've now made a stronger commitment to see this project through to its full potential, which includes active touring, press and promotion of the record.
The members of SWAG have individually logged in many musical hours. The word "supergroup" gets thrown around a lot when it comes to describing SWAG. Their list of accomplishments is long but emphasis on the music and their dynamic live performances are what the members of SWAG would like to focus on. As Rick Cornell of No Depression put it, "It makes more sense to think of SWAG as a stellar ensemble cast than a supergroup – say, the 'Hill Street Blues' of pure pop."
Jerry Dale McFadden
Jerry Dale McFadden spent six years writing, recording and performing with the Grammy award-winning artists, The Mavericks. His keyboards, vocals and famed flamboyant dances and clothing (let's talk turkey, we love his dressing!) have wowed audiences around the world. In addition to the release of two solo albums, he's written songs with Cheap Trick, Jason and The Scorchers and The Mavericks. Over the years, he has performed with Jill Sobule, Cheap Trick, Trent Summar and the New Row Mob, and Sixpence None the Richer. Jerry Dale's distinctive vocals keep fans coming back for more SWAG.
Robert Reynolds and Paul Deakin
Robert Reynolds and Paul Deakin are founding members of The Mavericks. Starting the group in Miami, FL., Reynolds, Deakin and company brought back life into the sterile commercial country music world with their mix of traditional country, latin, torch song and rock'n'roll. The band has seen success all over the world, including a summer smash in the UK in '98 when 'Dance The Night Away' stayed in the Top 10 for 10 weeks. The band have taken home numerous awards, including Grammys, CMA Awards and American Music Awards.
July 2001 (updated July 2012)