CDnow.com
April 20 2001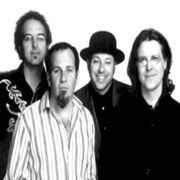 In Sickness And Health, Swag Does Right In Philadelphia
As supergroups go, Swag isn't the most A-list aggregate of moonlighting musicians (its members log time with Cheap Trick, Wilco, Sixpence None the Richer, and the Mavericks). But as ad-hoc purveyors of power pop, the members of Swag proved themselves to be in a class of their own at the cozy Khyber in Philadelphia Thursday evening (April 19).
Doing a brief run of club dates behind its loud and loose collection of pop charmers, Catch-all, the quintet had two surprises for the Philadelphia audience. First, Cheap Trick bassist Tom Petersson wasn't able to make the trek, as the never-ending tour schedule of his day gig beckoned. The second, and most unexpected surprise, was that guitarist-vocalist Doug Powell had come down with a throat infection that prevented him from singing (he barely opened his mouth or cracked a smile the entire performance, focusing instead on chiming, blissed-out guitar that recalled Peter Buck and Roger McGuinn). Swag founders Robert Reynolds (guitars/vocals) and Jerry Dale McFadden (keyboards/ vocals) handled all the vocal parts and crowd banter with aplomb and an "aw-shucks" humility that scored big points with the 150 or so pop fanatics that crowded the room.
In stark contrast to the hit-the-ground-running beginning of Catch-all, the band opened the Khyber set with a carefully measured tugging of the heart strings in the form of the melancholy "Different Girl", which floated along like a forgotten Badfinger gem. With erstwhile Wilco drummer Ken Coomer supplying the heavy backbeat and fancy cowbell work, "Please Don't Tell" followed in all its '60s garage-pop glory. It set the stage for similar-minded rockers like "Ride", which name-checked both Swag, and, with tongue-in-cheek, the M.I.A. Petersson's Cheap Trick ("Do you have a favorite Cheap Trick Song?") to rousing applause.
Reynolds remarked early and often how pleased the band was to bring its act on the road for receptive fans. Little did he know he'd be relying on those same fans to fetch him a beer from the bar (they wouldn't even take the money he offered). Coomer would later have to hit up one of the opening bands for a snare drum when his bit the dust (he sheepishly confessed his backup was in the van). While waiting for the replacement snare, Reynolds and McFadden filled the dead air with an impromptu version of the Zombies' "She's Not There", nailing the harmonies to perfection. If you looked closely enough, you could see the ailing Powell grinning just as widely as anyone in the house.
Pat Berkery
CDnow.com
April 20 2001