Country Music Round-up, October 2000
Robert Reynolds and Paul Deakin toured with Kevin Montgomery as the Roadtrippers between 2000 and 2004.

Roadtrippers band members varied depending on musicians' other commitments.

The 2000 tour dates and poster can be found here.

Live Review:
Kevin Montgomery with Robert Reynolds and Paul Deakin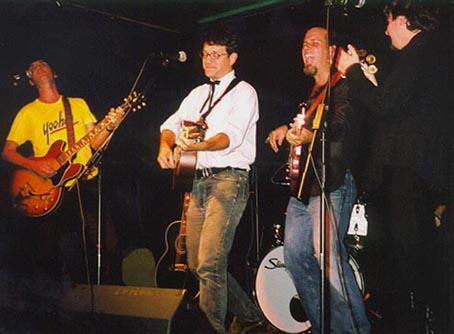 The Roadtrippers at the Adelphi, Preston, England, September 9, 2000.
Pat Buchanan, Jeff Finlin, Robert Reynolds, Kevin Montgomery.
Paul Deakin is obviously hidden behind Robert...
Adelphi Hotel, Preston, England, September 9, 2000




It was fortunate that Kevin Montgomery's Adelphi gig came right at the end of his short tour, as it had to be postponed from Thursday evening to Saturday.

This was because no less than Sir Paul McCartney had invited him to appear at a Buddy Holly commemorative show after learning of his father's connection to Buddy in the old Buddy and Bob duo before fame came along with The Crickets.

It was obvious how much in awe all the members of the band held the Beatles from the comments made from the stage during the show.

The first time Kevin came to the Adelphi he was accompanied only by his long-time friend Doug Pettibone, but on this occasion he brought along a bigger band. As well as Kevin on rhythm guitar we had from the Mavericks, Robert Reynolds on bass and Paul Deakin on drums, along with Pat Buchanan on lead. Also joining in on guitar was Jeff Finlin, a singer-songwriter who opened the show with a selection of his own material from his newly-released album.

Kevin then took to the stage with pretty much the same programme as last time, but with a slightly heavier rocking sound, as was to be expected.

This seemed to fit in very well with songs such as his album title track Another Long Story, Let's All Go To California, and Visions in White, but not quite so well on the only non self-penned number on his album, the beautiful Bruce Springsteen song I Wish I Were Blind.

However, this apart, the band gave a new dimension and urgency to Kevin's superbly crafted songs such as At Our Best, which he had written after a journey down the Pacific Coast Highway with a former girlfriend. Looking back at old photographs he saw himself smiling in a way that he said he hadn't done in a long time until a few days previously at the commemorative show. He very obviously felt good within himself.

The band left the stage to let Kevin do a solo spot with a couple of numbers, Angel Tonight and Broken from his album. It was then Pat Buchanan's turn to feature a track, Genius of the Obvious, from his own album.

Jeff Finlin came back on stage to complement the band and everyone joined in a great version of Wishing, the number of which Kevin had duetted with Mary Chapin Carpenter on the tribute to Buddy Holly album [Not Fade Away: Remembering Buddy Holly] and which had been co-written with Buddy by his father, famed Nashville producer Bob Montgomery. After another few numbers, the night generated into a massive jam session with the vocals of Robert Reynolds much to the fore, with the show coming to an end with an encore of a rocking version of Tom Petty's American Girl.

This second visit had proved to be a tremendous success and a great coup for the Adelphi.

Ken Birkinshaw
Country Music Round-up
October 2000