Midlands Music Festival
Ballinlough Castle, Ireland
July 29 2006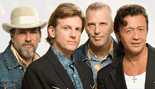 The Hillbilly All-stars

The Hillbilly All-stars are a fairly new addition to the country/Americana scene as a collective, but they are all well known individually.

The band consists of Robert Reynolds and Paul Deakin (the Mavericks), Chuck Mead (BR549), actor/singer Mark Collie, and, just for the festival, they were joined by pedal steel player Al Perkins. Their set was only half an hour at the start of the second day, but they made every minute count as they worked through a set of infectious upbeat songs, inluding covers of Gram Parsons' 'Ooh, Las Vegas' and Johnny Cash's 'Ring of Fire', and there was also the debut of the first Hillbilly All-stars original 'Ain't Nothing Like the Love of a Woman Make a Man Wanna Act Like That'.

Throughout the set, Robert, Chuck and Mark rotated lead vocals, and it was good to have each of them take centre stage. Later in the day, they also took the time to spend some time at the festival merchandise booth to sign CDs and posters for fans.

Erin Spurling, Maverick Magazine
October 2006
(excerpt from article covering the whole two-day festival)
http://www.maverick-country.com/