Maverick Magazine
July 2004


Robert Reynolds and Paul Deakin toured with Kevin Montgomery as the Roadtrippers between 2000 and 2004.

For those who like detail, the 2004 tour dates can be found here.


Photo shows the Roadtrippers playing at The Old Chapel in Birmingham, England in September 2000, with Pat Buchanan - and not at the venue and date mentioned in this review. Roadtrippers band members varied, depending on other commitments.

Live Review:
Kevin Montgomery and the Roadtrippers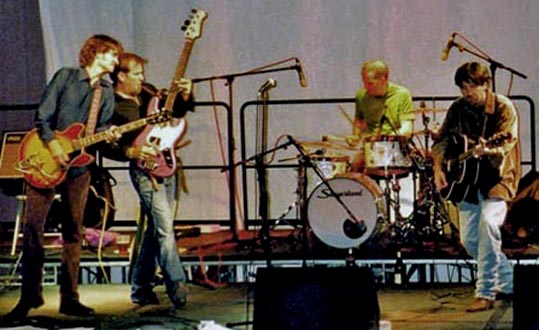 The Roadtrippers, Birmingham, September 2, 2000.
Pat Buchanan, Robert Reynolds, Paul Deakin, Kevin Montgomery.

The Borderline, London, May 10, 2004




'Thanks for coming out on this school night', proclaimed Kevin Montgomery to the packed Borderline audience. He then broke into Cherokee City, and his pure innocent vocals were in excellent form from the start, making it clear that this was to be a great night. He continued with I Can't Drive You From My Mind, with accompaniment from Mike McAdam on guitar and Johnny MacKinnon on keyboards. Paul Deakin, Robert Reynolds and Al Perkins then joined them on stage for At Our Best, which included a wonderfully atmospheric steel intro from Al. The uplifting, up-tempo Tennessee Girl came next, with Paul showing his power on the drums. They then rocked on even more with the catchy Let's All Go To California.

From the moment Al Perkins stepped onto the stage, it was clear that he was unhappy with the heat, and he kept on asking for something to be sorted out. After the next song, Way Back When, he finally had enough and went way backstage to sort the air conditioning out himself. At this point, Robert Reynolds took the opportunity to speak to the crowd, and he was just saying 'If we don't get air conditioning...' when a lady in the audience quickly shouted out 'I'll take my clothes off!' - to which Robert countered with 'Shut the air off, kids!'

With Al once again back on stage and air conditioning working (to the relief of the lady in the audience). Paul Deakin led the way with a driving beat on Which Way Is It Gonna Be. The fans' favourite, Another Long story, then ensued, before Robert took over the lead on the Mavs' I Don't Even Know Your Name, with Kevin sharing harmonies. Robert and Kevin then duetted together on a fine tribute to Buddy Holly and Bob Montgomery, which then led to Kevin's song with the Elvis-sounding title Thank You Very Much. Al Perkins again shone on pedal steel on the lively I'm On Your Side, and Mike McAdam produced some sensationally haunting guitar sounds on the beautiful ballad Angel Tonight. After Broken, Kevin then left Mike McAdam to take centre stage to perform one of his own ballads, A Million Miles. The full band then came back out with Jeff Finlin in tow (Jeff was the support act for the tour) and he sang the next two rocking tunes.

Due to the late hour and a long journey home by public transport, I had to leave, but my colleague Dave Watson stayed to the end, and filled me in on the rest of the show. It was Al Perkins' turn to take the spotlight, and he showed off his playing skills plus vocal capabilities on the blues standard Crossroads. He then played some scintillating guitar on the Gram Parsons classic Ooh Las Vegas.

At 11.30pm they left the stage to tumultuous applause, which forced them back for a much-deserved encore, and what an encore! A fifteen-minute medley of Bo Diddley, the Stones' (via Buddy Holly) Not Fade Away, the Who's Magic Bus, plus they even slipped in a chorus of Iko Iko for good measure! Robert Reynolds took most of the vocals on this medley, and Jeff Finlin joined Paul Deakin on drums. What a fantastically mega way to finish the show.

Once again, Kev and the guys proved that they are one of the best live acts around, and hopefully will keep bringing pleasure to all us music lovers by keeping on coming back to tour!

David Knowles
Maverick Magazine
July 2004

www.Maverick-country.com/